To comeback to the other Controversial topic "Several biggest errors of particle physicists." I think that the biggest might be the interpretation of Niels Bohr of how a nucleus works. It is thought of as a center piece, with electrons flying around it but I believe it might be alternatively like a "Mixer" and in that case the quarks would be strings of particles like the rotors (beaters), and the electrons would be spinning inside and the whole would form a bowl like is seen on the drawings further below.
The whole would be spinning around like the "Belgian tourniquet" previously suggested, it could be that protons are like a "drafting" mechanism, in a sea of particles, where the configuration of 3 quarks has a bigger and almost endless existence:
http://en.wikipedia.org/wiki/Drafting_(aerodynamics)
Here are some more images to illustrate the idea, just give it some thought, and it would be inline with my other wacky concept of the spinning (8) ball:
http://800millionparticles.blogspot.com
I hope you might get the idea
Spinning string: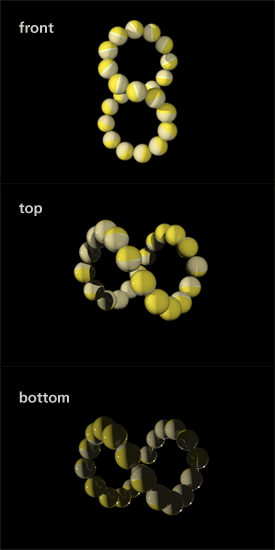 The nucleus is build up out of 3 of those strings, forming a triskel:
Photons bounce off or go through or cause the proton to slow down.
Light is like grains of sand falling throug pepples:
Well anything wacky could be discussed in this section of the forum, so I'm having a go at it